Free Prize Wheel Online - Spin the Wheel App
Entries: Paste or Type
Prize 1
Prize 2
Prize 3
Prize 4
Prize 5
Prize 6
Prize 7
Prize 8
Prize 9
Prize 10
Prize 11
Prize 12
Prize 13
Prize 14
Prize 15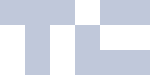 Prize Wheel
Prize Wheels are all the rage these days, and for good reason! They're a fun way to play the classic game of chance, and people of all ages can enjoy them – even if you don't have any gambling experience!
How Prize Wheels Work
Prize Wheels come in all shapes and sizes, but they all work the same way. A prize wheel is a spinning wheel with a number of different prizes printed on it. You choose which prize you want to win and then place your choice in the wheel.
When you spin the prize wheel, it randomly selects one of the prizes printed on it. If you have won the prize that was on the wheel, you will receive your winnings immediately! Prize Wheels are a fun way to play the classic game of chance, and they can be used for many different purposes. They are great for playing in amusement parks, carnivals and other events where there are lots of people around. You can also use Prize Wheels to raise money for a good cause. Just print out some flyers or posters advertising the prize wheel and let people know how much money they can win if they come to play!
Types of Prize Wheels
There are a number of different types of prize wheel, each with its own set of features and benefits. Below we have outlined the main types of price wheels and their main features:
Standard Prize Wheel: This is the most common type of prize wheel and consists of a number of concentric circles that spin randomly. You can choose from several prizes and the wheel will give you a random result for each selection. This is the easiest type of prize wheel to use and is suitable for most applications.
Random Number Prize Wheel: This type of wheel uses random numbers to determine your prizes. Rather than relying on a certain number of circles to spin, this type of wheel uses a computer to generate a random number for each selection you make. This can be more complicated to use, but offers more flexibility regarding the types of prizes you can offer.
Multilevel Prize Wheel: In addition to the standard prizes, some Prize Wheels offer multiple reward levels. For example, you can have one tier that offers a small prize and another tier that offers a larger prize. The levels are randomly selected when you spin the wheel, so there is always something new waiting for you.
How do you play a prize wheel?
Prize wheels are an exciting way to play the classic game of chance. Choose from different prizes, place your picks in the wheel and spin for a random result!
There are many different types of price wheels on the market, so it's important to find one that fits your needs exactly. Some popular options include casino-style prize wheels, scratch cards and even prize redemption machines.
The most important things to consider when choosing a prize wheel is how many prizes you want to offer and what kind of prizes you want to include. Several options are available, including items such as casino chips, tickets to a concert or movie, or even free vacations!
Once you've selected your prizes, it's time to set up the wheel. Prize wheels come in a variety of sizes, so be sure to pick one that fits comfortably into your play space. You also want to make sure that the steering wheel is easy to use and navigate.
Finally, it's time to spin! Place your choice of prizes in the wheel and start spinning for exciting results!
How to win on a prize wheel
The prize wheel is an exciting way to play the classic game of chance. Choose from different prizes, place your picks in the wheel and spin for a random result!
You can find Prize Wheels in many casinos and amusement parks across the country. Some of the more popular prizes include travel, cars, and cash.
Here are some tips for winning with a prize wheel:
1. Make sure you know the odds of winning each prize. This will help you decide which prices to choose.
2. If possible, try to choose smaller prizes instead of larger ones. This increases your chances of winning.
3. Be patient – it may take a while for your chosen prize to appear on the wheel. Don't get discouraged if it doesn't happen right away!
4. If you're not sure if you've won a prize, ask a casino employee for help. They are usually more than happy to assist customers!
Where to buy prize wheels
There are many places to find prize wheels. You can buy them online, in stores or at trade shows. Here are some of the best places to buy price wheels:
– Amazon.com
– Walmart.com
– Target.com
– Toys"R"Us.com
– Kmart.com
Conclusion
If you're looking for an exciting and fun way to play the classic game of chance, check out the prize wheel! With a variety of prices to choose from, it is sure to be a favorite in any home. Whether you're looking for that elusive Vegas trip or just want to treat your friends and family to some great loot, the prize wheel is perfect for you. So what are you waiting for? Try it today!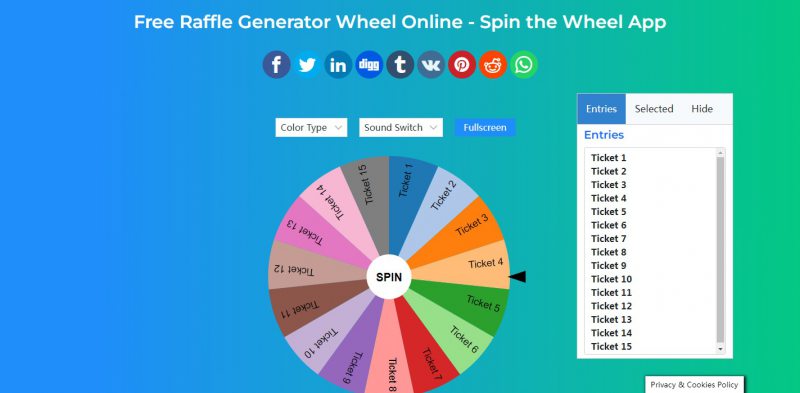 Raffle Generator Wheel
Raffle Generator Wheel is the best way for people to decide how to divide up a raffle prize. The wheel can be used as a ticket generator or as a raffle wheel. It's easy to use – just enter choices, spin the wheel and see what it delivers!
Giveaway Generator Wheel
Now the luckiest of the lucky have a chance to win a prize. The Giveaway Generator Wheel lets you enter your choices, such as book or food, and spin the wheel to decide a random result.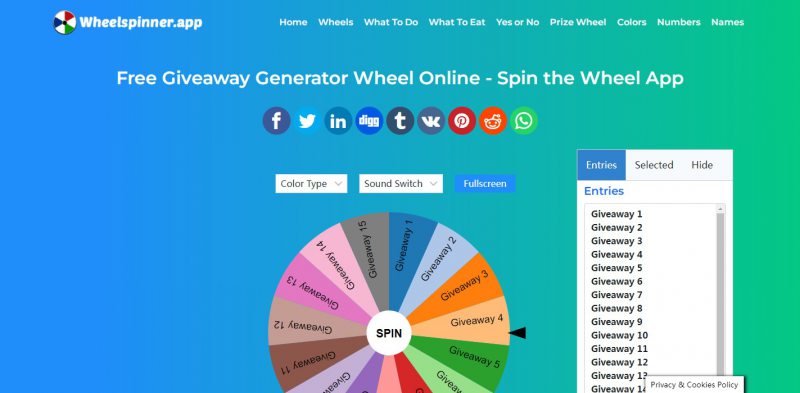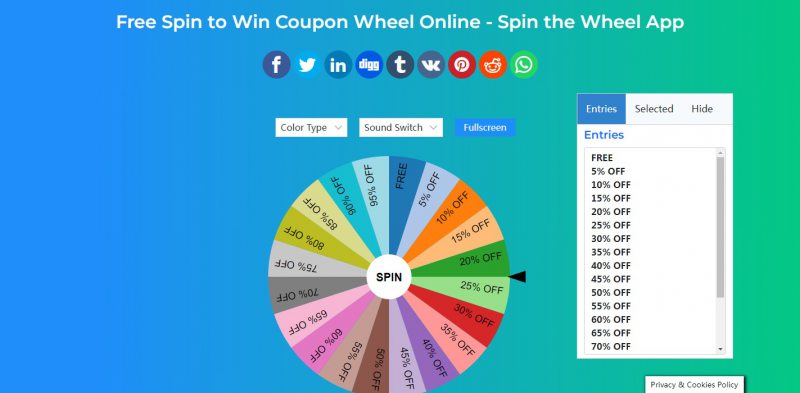 Spin to Win Coupon Wheel
Spin to Win Coupon Wheel is the easiest way for a store owner to create a coupon campaign. Just choose your options, enter the promo code and you're ready to go!