Free Color Wheel Spinner Online - Spin the Wheel App
Entries: Paste or Type
Blue
Red
Green
Orange
Purple
Yellow
Pink
gold
silver
Black
White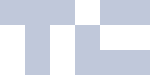 Color Wheel Spinner
Do you love to create colorful artwork but find it difficult to decide which colors to use? Well, with the help of the Color Wheel Spinner, you can easily pick any color from the rainbow! Just spin the wheel and select which color you want to use. Other options are also available, such as gold and silver, if you want a more subtle shade.
Wat is Color Wheel Spinner?
The Color Wheel Spinner is a random color wheel that can be rotated to choose from these options: blue, red, green, orange, purple, yellow, pink, gold, silver, black and white.
How do you use Color Wheel Spinner?
The Color Wheel Spinner is a cool way to randomly pick a color. All you have to do is spin the wheel and choose from the listed options. The options blue, red, green, orange, purple, yellow, pink, gold, silver, and black are all different colors. You can also choose to spin the wheel continuously or randomly.
What are the benefits of using Color Wheel Spinner?
There are many benefits to using a Color Wheel Spinner. The first advantage is that it is a random color wheel. This allows you to choose from many different colors. This can be helpful when choosing a color for a project. In addition, the Color Wheel Spinner can be used to help determine which colors to use in a design. By spinning the color wheel, you can find the colors that work best together. Finally, the color wheel can also be used to create an artist or designer palette. By choosing colors from the color wheel, they can create a more diverse and vibrant design.
Conclusion
Thanks for reading our article about the Color Wheel Spinner! In this article, we'll break down all the features of this handy little app and show you how to use it. Best of all, it's free to download and use! Once you're done with this article, I hope you're motivated to check out the Color Wheel Spinner app for yourself.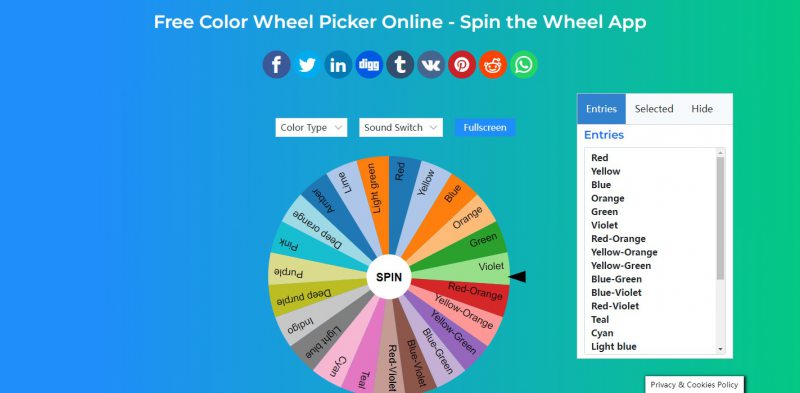 Color Wheel Picker
Color Wheel Picker is a handy tool for designers who want to create the best color scheme possible. It's easy and free!
Magic 8 Ball Online
Magic 8 Ball Online is a fun and interactive game that tells your fortune by asking you a series of questions. You will be able to determine what your future will hold, or even just make entertaining predictions.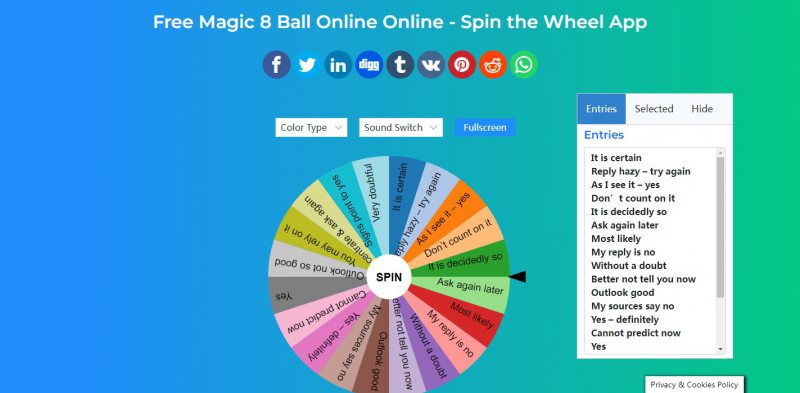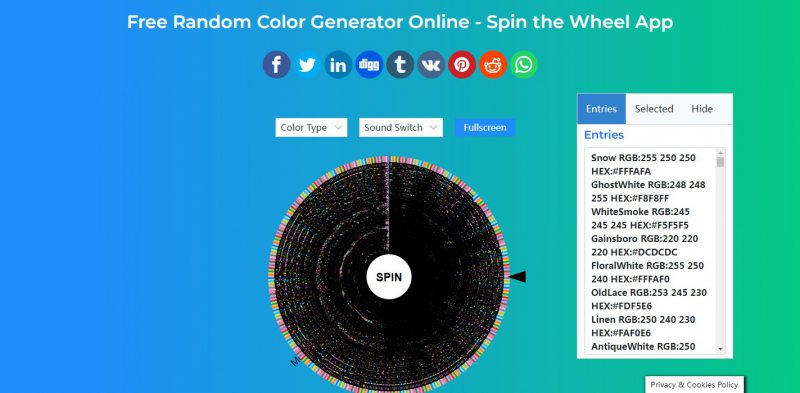 Random Color Generator
Random color picker that is simple and convenient. From now on you can choose a random color for your next project without having to do any complex calculations. You just need to start picking colors from the "random color generator".